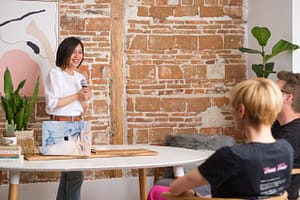 Will your best talent still be here tomorrow?
Change is good. Change is hard. Change is already happening. Inclusion in Progress will help you stay ahead of the curve — so you can recruit and retain the best from anywhere in the world.
Chances are your workforce is already diverse and multicultural — and if it isn't now, it will be.
As remote work goes from "nice to have" to "need to have", as borders are redefined, and as demographics shift, your teams' lived experiences will be more fluid than ever. What are you doing to embrace, understand, and harness the power of that diversity?
Inclusion in Progress unites cross-cultural communication, remote culture-building, and intersectional DEI strategies to help your company unlock the full potential of your people — no matter where they come from or where they choose to work.
Cultural agility training
At Inclusion in Progress, we've learned how to leverage our "differences" across countries and timezones. We combine lived experience with research-backed training to help leaders effectively connect, communicate and collaborate with multicultural teams.
Navigating cultural and language barriers is hard. Navigating those barriers over Slack, Zoom, or email? Your teams can't afford to get lost in translation. We'll help you audit and strengthen your virtual communication protocols — so your distributed teams collaborate at their best.
Cross-cultural DEI consulting
An effective diversity, equity and inclusion (DEI) strategy depends on adapting it to where your teams live and operate — and partnering with people well-versed in each region's cultural nuances. If you're expanding your DEI strategy globally, we'll help you with our cross-cultural lens.
We believe everyone contributes to a company's culture — whether they're within 30 miles or overseas. It's why we partner with inclusion-minded leaders to tap into the lived experiences and cultural identities of your global workforce.
Our 100% remote team spans the Americas, EMEA, and APAC regions. So we know firsthand that teams work best when we leverage our so-called "differences". We combine our own day-to-day experience at Inclusion in Progress with rigorously researched, culturally-specific solutions that we tailor to your teams to unlock their performance.
We've helped over 30,000+ employees
We tailor our solutions for global teams
We partner with people for the long haul
Thank you for your Pause to Progress workshop!! We received wonderful feedback on how much this workshop was needed and had our ERG members feeling energized! Thank you for the light that you are and the impactful work you and your team do.
"I wanted to express gratitude on behalf of our company for your partnership today. Your content provided the perfect foundational knowledge for our attendees and even introduced them to new DEI concepts/terminology. You weaved in topics beyond just gender so gracefully which is exactly what we were hoping for. We can't thank you enough for the preparation required to customize the workshop, for your delivery of the content, engagement with the audience, and for your general support of our ERG."
Our experience working with IIP to facilitate two workshops on male allyship and gender equity was one we'd be happy to repeat! Kay was highly proactive and insightful with her suggestions on how to meet our objectives and she didn't stop at what we asked for. She helped us go even further by offering alternative strategic tactics. Her professionalism and preparedness was top notch and the content of the workshop was not only highly relevant but also expertly sourced. Kay's fun and lighthearted personality opens the audience's heart to difficult topics and facilitates understanding and ownership.
The session delivered on the Food and Agriculture Organization of the United Nations (FAO) on the topic of "Workplace Wellness: Self-care strategies and setting healthy boundaries at work" was brilliant. The session was informative, inspiring and highly engaging. Kay's professionalism along with her motivation and lively presentation style was praised and recognized by all participants globally. We look forward to collaborate with you again in the future!
Reimagine your culture today. Create thriving teams tomorrow.